14 Softballs or Baseball Cubes Display Case Cabinet Wall Rack Home Plate Shaped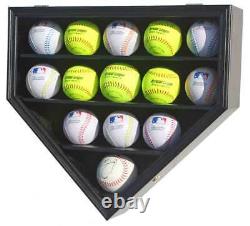 Handcrafted in solid furniture grade beech hardwood with elegant furniture finish. Dimension: 21"W X 19.5"H X 4.75 (outside).
Interior depth is 4.25. Shelf Height is 3.75. This cabinet has an installed lock and a 98% UV Protection Rated Acrylic Door. Indentations on shelves to secure ball from rolling. You can also place baseball cubes on the shelves.
(Baseball and cubes not included).