Helle Sylvsteinen Knife with Leather Case Handmade in Norway Display Model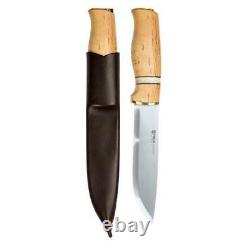 Helle Sylvsteinen Knife w/ Leather Case - Handmade in Norway - Display Model. IMAGINE owning a hand made Norwegian knife - where there are no shortcuts to perfection! Helle Knife Saga Siglar Like New - Display Model - No Defects.
The Sylvsteinen is a new classic. Designed with the shape of the much appreciated Jegermester knife. The blade is large enough for a camp knife or butchering. The blade is made of our famous laminated stainless steel. The handle is curly birch with an antler inserts. It is sized for average or slightly larger hands. It comes with the traditional pouch style sheath.
Sharpening Use a diamond tool or a wet stone for sharpening. Place the knife bevel flat to the sharpening tool and work the entire blade. Work one side until you can feel a slight burr on the opposite side. Switch side and repeat the procedure until you feel the burr on the first side.
You have now established an edge. Remove the burr by stroking the blade gently over the sharpening surface on both sides, as if cutting very thin slices. Keep the bevel flat towards the sharpener and move from side to side until the burr is gone. If the blade is very dull or damaged, use a fine-grained grindstone and plenty of water and sharpen until you have a raw edge. Use much cooling liquid and never sharpen on a dry stone. A hot-ground edge looses its heat treatment and ruins the blade. There are no shortcuts to perfection.
Helle Norwegian Fine Crafted Knives - where there are no shortcuts to perfection. Materials Handles of carefully selected materials Good craftsmanship requires the ability to create handle shapes which are consistent with the blade, fit comfortably in the hand, and add character to the knife.
In most handles, we use the hard and beautifully structured wood of curly grained birch, alone or in combination with matching materials, such as leather and stag horn. A painstaking process of grinding, polishing and oiling is performed to offer full justice to the natural beauty of these materials.
Because we use natural materials in our handles, each Helle knife has its own unique look. A knife is more than just a blade, and a Helle knife is a true work of art.
The Sheath - the Nordic way Quality is of utmost importance to A/S Helle Fabrikker, and we apply the same criteria to our sheaths as we do to our knife blades and handles. Good craftsmanship and the perceptible quality of the materials used, make for a sheath which is both strong and attractive. Like our knives, our sheaths are designed to be functional and durable. At the same time, we demand that all sheaths match the beauty and character of the knives that they encase. Our sheaths are made of specially tanned leather, and treated with saddle grease for increased lustre and durability. The particular shape of the Norwegian sheath bears evidence of long-time functional development and at the same time, it enhances the quality of the knife. The steel in Helle knives is unique The differences between a Helle knife and other knives are many. The biggest difference lies in our triple laminated stainless steel blade. The core is made of high alloy steel which gives it a lasting, razor-sharp edge.
This harder layer cannot however exclude the threat of rust or breakage. To exploit the superb qualities of the high alloy steel we added two layers of tough stainless steel(18/8) to protect the blade against breakage and corrosion, while the high carbon core still provides a superb cutting edge. This triple laminated stainless steel is unique to our knife blades. The steel we use is more expensive than in most other knife brands, but that is all a part of Helles philosophy of never compromising on quality.
Blade material: Triple laminated carbon steel. Blade thickness: 3.2 mm. Handle material: Curly birch and antler. See what others are saying about. Just as it should be.
Five Stars across the board! By far the quickest shipper ever!
See all of our feedback. We strive for 5 stars on all feedback. Our warehouse is closed on Saturday and Sunday. We can not be held responsible for delays due to weather or courier mistakes.
Additional charges may apply on large items. We will even take a check. Please let us know if you have any other questions. Bought the wrong product, or it didn't fit your needs? Please include your name, order number, and reason for return. We'll take the item back as long as it's new with all tags and original packaging (if applicable). ImagineGear is located in Salt Lake City, Utah and has been in business since 1999.
We bring you name brand outdoor gear at great prices. Our mission is to EYE Exceed Your Expectations with quality products and awesome customer service! ImagineGear offers a wide variety of high quality merchandise at great prices including: EaglesNest Outfitters Hammocks; Hennessy Hammocks; Sleeping Bags; Hults Bruk Axes; Selle SMP Saddles; Biknd Bike Carriers; and other name brand outdoor gear. We have no control over how long it takes the post office to deliver your package.
The item "Helle Sylvsteinen Knife with Leather Case Handmade in Norway Display Model" is in sale since Thursday, December 2, 2021. This item is in the category "Sporting Goods\Camping & Hiking\Camping Knives & Tools\Camping Knives".
The seller is "imaginegear" and is located in Salt Lake City, Utah. This item can be shipped worldwide.
UPC: 7023890030424
Brand: Helle
MPN: 44