Hat or Cap Display Case with Mirror, Wall Mount, Red Risers & Wood Base (A006)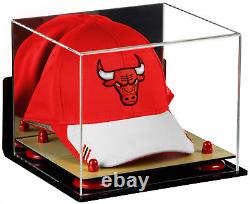 HIGH-QUALITY clear acrylic display cube with mirror and wall mount; simple base assembly required. SIMULATED WOOD covered acrylic two-tiered base with red metal risers and wall mount; perfect for displaying collectible sports hats. MIRRORED BACK gives a fuller appearance and FREE MICROFIBER cleaning cloth included. HAND CRAFTED with polished edges and UV protection.
See our store or below for other riser color, mirror or wall mount options. Protect and display your collectible sports hat or cap in one of our beautiful, high-quality, display cases. This display case will make your memorabilia stand out and provide protection from damage caused by dust, spills, fingerprints, light or simply something falling on top of it. These cases are constructed of 1/8 crystal clear, durable, high clarity acrylic.
Front and top of the case are made from one piece of acrylic (Plexiglas), giving an aesthetically pleasing rollover appearance with fewer seams. Black acrylic two-tiered base (with wall mount option) includes your choice of gold, silver, black, red, white, orange and blue plated metal risers, with metal screws and nuts - not plastic like many manufacturers use.
Rubber feet are placed on the bottom to protect the case from scratching your shelf or table. This is a wonderful gift for any sports fan with a baseball cap (High School, College or Professional) to display. Memorabilia pictured in the display case is not included.
Memorabilia pictured in the display case not included. Manufactured by Better Display Cases (a veteran owned and operated company). Customer service is always our top priority. So, if you are ever unhappy with your order for any reason, please contact me and I'll be sure the issue is resolved to your satisfaction.
We would love to help you display your story!